CHEVEOLET GOOD DEEDS CUP
---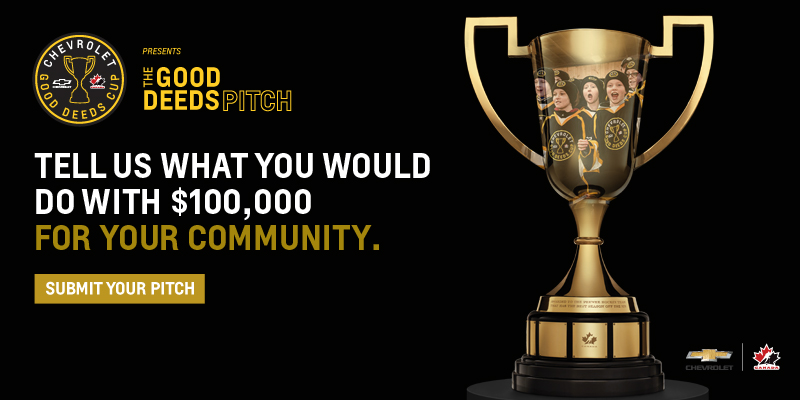 CHERVOLET GOOD DEEDS CUP
The Chevrolet Good Deeds Cup is back and this year we are asking that you PITCH Good Deed IDEAS that will have a significant impact on your community

This year, ideas triumph, and your team has the chance to inspire Canada and do good for your community.

Participating is easy, U11, U13 & U15 minor hockey Teams are asked to work together and come up with a Good Deed Idea that can make a difference in their community. Once your team has the idea simply film a short video pitching it to us.

All participating teams will have the chance to become champions and win a $100,000 donation to the registered charity of their choice, making a difference in their community.

Every team will do good no matter what, and in addition to the grand prize, Chevrolet will donate $50 for every Good Deed idea submission, to the Hockey Canada Foundation Assist Fund, to help more kids access the game we love.

Submissions open: Dec. 20, 2020

Submissions close: Jan. 28th, 2021
To learn more, please click here.
FREQUENTLY ASKED QUESTIONS
What is the Chevrolet Good Deeds Cup?
The Chevrolet Good Deeds Cup is the first hockey trophy awarded to the U11, U13 or U15 minor hockey team that has the best season off the ice. In this fifth year, teams are asked to submit Good Deed ideas that can make a difference in their community, for the chance to be named this year's Chevrolet Good Deed Cup Champions.
Who is eligible to participate in the Chevrolet Good Deeds Cup?
U11, U13 & U15 hockey teams registered under Hockey Canada and the Ontario Women's Hockey Association (OWHA).
What is the contest submission period?
The contest is open from Dec 20
th
2020 until January 28
th 2021. So make sure to start brainstorming your good deed ideas with your team and submit prior to the closing date.
What counts as a Good Deed?
Any idea of good that you can think of counts as a Good Deed.
What is the prize?
A. Every team that participates has the chance to become this year's champion, and win a $100,000 donation to the registered charity of their choice.
B. Every Good Deed idea submitted will also do good. Chevrolet will donate $50 to the
Hockey Canada Foundation Assist Fund
for each Good Deed idea submitted, donating up to $75,000.
C. Semi-Finalists and Finalists will also receive prizing as well. See the Rules & Regulations at ChevroletGoodDeedsCup.ca for more information.
What is different this year and why?
This year, instead of asking teams to execute and submit a video of their Good Deeds in their communities, teams are asked to submit Good Deed ideas for the community. Teams are not actually completing the good deed, rather submitting an idea of their good deed or what the $100,000 could do to support within their community.
How do I submit my Good Deed idea?
Submitting a Good Deed idea is easy. Just follow these steps:
Ensure your hockey team is U11, U13 or U15 and registered with Hockey Canada.
Be Safe! Please follow your applicable COVID 19 guidelines while brainstorming and filming your Good Deed idea videos. ?
Work with your team to brainstorm with a Good Deed idea that can help your community.

Good Deed idea examples:

Our team wants to help our local humane society rescue more animals.
Our team would donate $100,000 to our local hospital foundation so they can purchase more machines for their cardiac unit.
Our team wants to support the local food bank and provide meals to families in need.
Be creative! Find a Good Deed idea that is relevant to your community!
Create a 30 second to one (1) min long video to pitch your Good Deed idea. Including;

Team name & location (City/Town and Province). ?
Your Good Deed idea. ?
Why the Good Deed idea would be meaningful to your community
Who is the register charity of your choice? (the $100,000 will be donated to this charity.)

Submit your Good Deed idea on Twitter using your hockey team's Twitter account. Make sure you use the following tags:

@ChevroletCanada
#GoodDeedsCup
How many Good Deeds ideas can my team submit?
To compete for the Chevrolet Good Deeds Cup, you and your teammates must pitch at least one Good Deed idea. But you and your teammates can feel free to pitch more than one Good Deed idea each! There is a limit of five submissions per team.
When is the last day my team can submit a video?
All Good Deed ideas must be submitted on Twitter by January 28th, 2021.
How are the Good Deeds Cup Champions determined?
Panel made up of Chevrolet and Hockey Canada members, along with our Chevrolet Good Deeds Cup Ambassadors will review each entry to determine our 11 Regional Finalists.
Then, over a two-week period, Canadians will weigh in to help us narrow it down to three Finalists.
Lastly, our panel will reconvene to determine the Chevrolet Good Deeds Cup Champions.