SCOTIABANK GIRLS HOCKEYFEST SUMMIT
---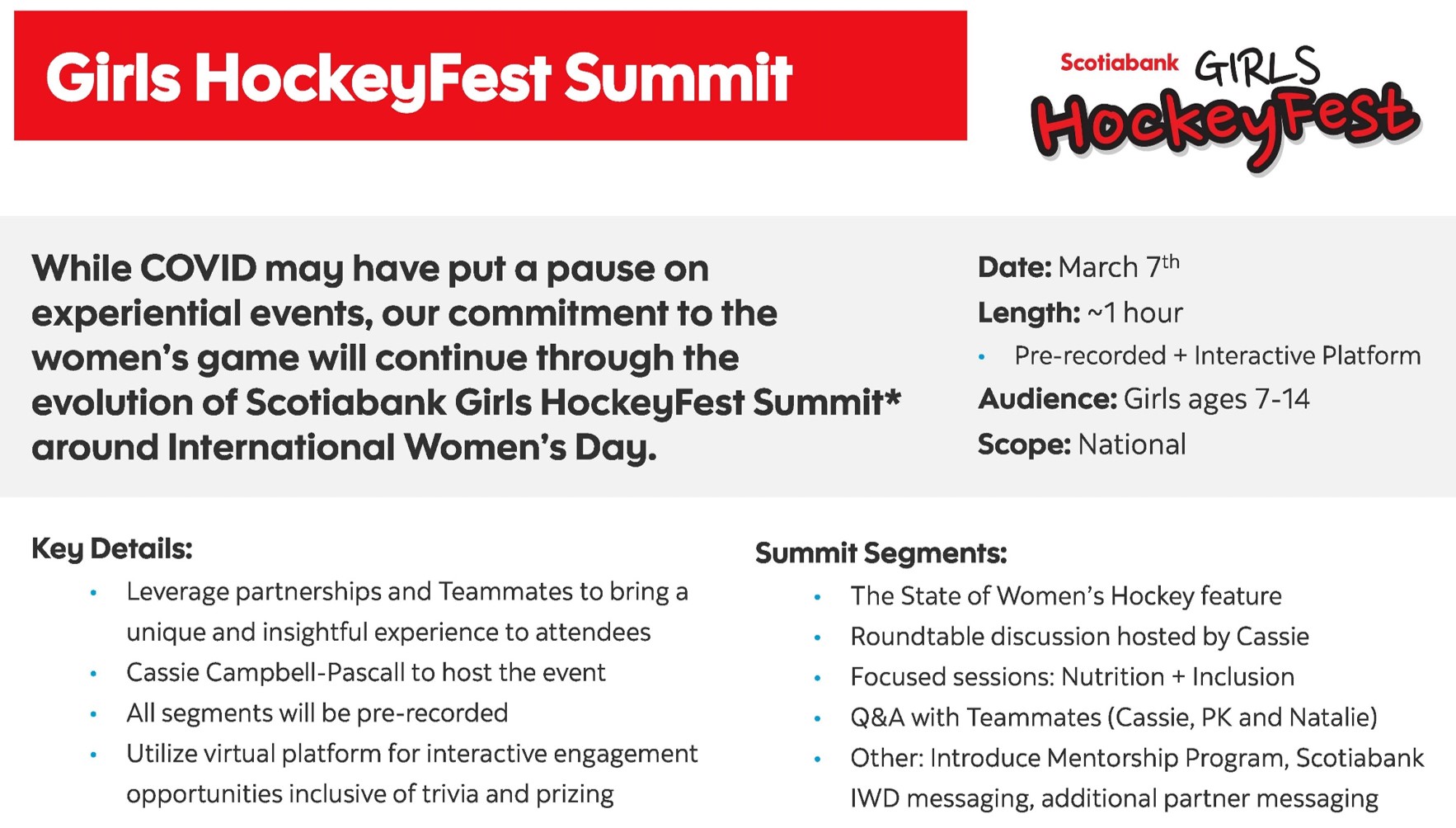 Over the last year, we have experienced a considerable amount of change and have had to adapt as the world navigates the COVID-19 pandemic.
In the past, Scotiabank Girls HockeyFest has been a place where young female athletes could spend half a day learning from some of the top female players in Canada, participating in on-ice drills, off-ice training, nutritional and speaker sessions. At Scotiabank, we believe these experiences help young athletes to connect with the game they love today to become strong female leaders for tomorrow. This year, although we cannot offer an in-person event, it is still important that we provide female athletes an opportunity to learn and continue to grow as players.
Join us on Sunday, March 7th at 4:00 PM EST, as we host the inaugural Scotiabank Girls HockeyFest Summit.
An hour-and-a-half virtual session dedicated to women's hockey.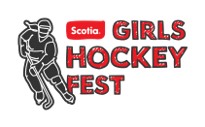 WHAT TO EXPECT
The inaugural Scotiabank Girls HockeyFest Summit is an hour-and-a-half event that will include inspiring programming and exclusive access to the virtual Scotiabank Arena where you can navigate interactive elements and score exclusive merchandise and giveaways along the way.
During the event, Scotiabank will also be announcing the under-15 Scotia Rising Teammates. In partnership with Hockey Canada and the Professional Women's Hockey Players Association (PWHPA), Scotiabank has selected 21 girls across Canada who demonstrate outstanding play, leadership and teamwork, both on and off the ice.
The Summit is open to all female hockey players, their families and friends.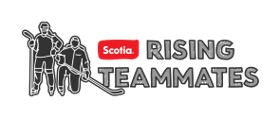 Scotiabank announces under-15 female hockey players selected for the new Scotia Rising Teammates Mentorship Program
Scotiabank, in partnership with Hockey Canada and the Professional Women's Hockey Players Association, have launched the Scotia Rising Teammates— a commitment to making sure hockey is inclusive, no matter one's gender, and inspiring future generations of young female players.
The Scotia Rising Teammates will be comprised of 21 girls from across the country who are passionate about Canada's game and are outstanding players, teammates, leaders and community members.
Rising Teammates participants will take part in a once in a lifetime mentorship program and receive the following:
Four-week mentorship program with a PWHPA player

Four individual mentorship sessions

Four group sessions that will include the participant's teammates and special guest appearances

Resource handbook

Individual participant package

$1,000 donation to the participant's hockey team
FREQUENTLY ASKED QUESTIONS
What is Scotiabank Girls HockeyFest?
Scotiabank Girls HockeyFest Summit is an hour-and-a-half virtual event focused on women's hockey and will feature inspiring programming, special guest speakers and giveaways.
What is the registration process?
Registration for the virtual event is now OPEN. Registration is open to all Canadians. The registration experience will be as follows:
- Individual completes all required fields and submits registration form. Note: Individuals under 18 must have a parent or guardian complete a consent form
- Registrant will receive an email confirming that the application has been successfully received
- An email will be sent the morning of the event with a link to access the virtual arena platform
What should I do if I haven't received any emails with updates or confirmations?
If you do not receive any communication emails, please first check your spam folder. If your spam folder is empty, please email info@scotiabankgirlshockeyfest.com and we would be happy to assist you.
Is there a cost for participation?
Scotiabank is happy to provide this event free of charge to all participants.
Why are you asking for my address and personal information?
Throughout the event individuals can participate in trivia, polls, and Q&A to score exciting giveaways. We require this information to send you giveaways if you are one of the lucky recipients.